Our Homeschool Cart – A Walk Through
I posted a photo on Instagram last week sharing that I was spending the day rearranging our homeschool cart (because I had not yet organized it for this school year) and a lot of you wanted to see a video walk through so here it is!
I shared a post about our cart almost exactly a year ago, you can check that out here.
This year I decided to go more minimalistic with our cart and I've changed the whole point of the cart.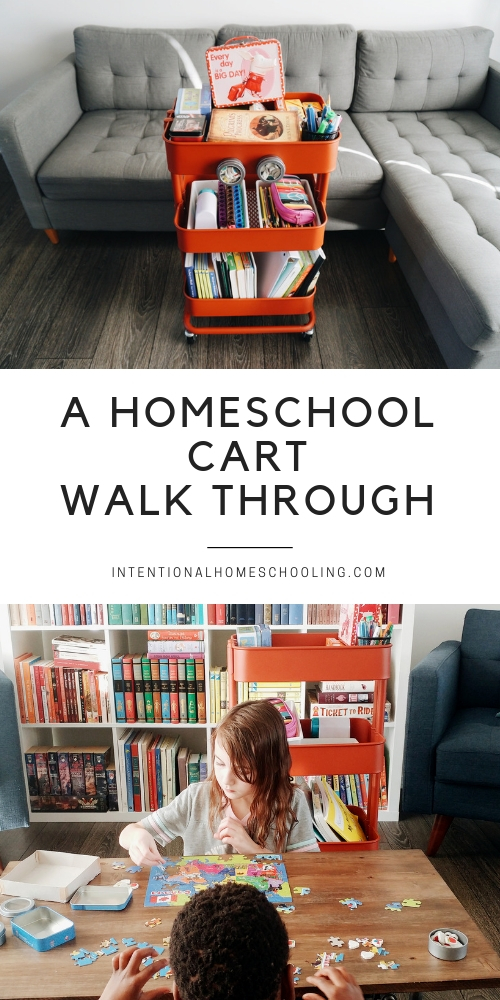 OTHER POSTS YOU MAY ENJOY:
I made this walk through in video format and plan on doing more videos in the next few months, if there is something specific you want to see a video of, let me know! Also, you can subscribe to my Youtube channel to be alerted of new videos: [sm-youtube-subscribe]
Enjoy the video:
Mentioned in the video:
Cart (in a color I like better)
Teach Your Child to Read in 100 Easy Lessons
If you have any specific videos you would like to see in the future, like a Day in the Life or something else, let me know!
SIGN UP FOR MY NEWSLETTER!
Hi Friend, I would love for you to sign up for my seasonal-ish newsletter! I would love to send it monthly but I feel like in this season of my life that will probably not happen but I would like to commit to sending one out at least every three months.
In the newsletter you can expect little (or big!) life updates, what I've been reading in the Bible, and all sorts of resources I've been loving and lessons God has been teaching me.