A Homeschool Day in the Life – Kindergarten and Grade Three
I love getting a little peek into the lives of other homeschoolers and today I thought I would give you a little peek into our homeschool!
I mentioned last week in our homeschool cart tour that I have plan on doing a few more videos this year, and a day in the life of our homeschool was the most requested video.
It took us a few weeks to get into our homeschool groove this year, as is the case every year, but we are into a really good rhythm right now. So, one day last week I captured the majority of our homeschool day on video. Unfortunately for the video quality it was a really dark and overcast day, but that's fairly minor.
Originally I thought it would be fun to do a new Day in the Life video each month but I'm using a very old computer for the editing and it took longer than I expected so that may or may not happen.
Side note: There is a nod to one of my favorite movies (You've Got Mail) in the video, see if you can catch it!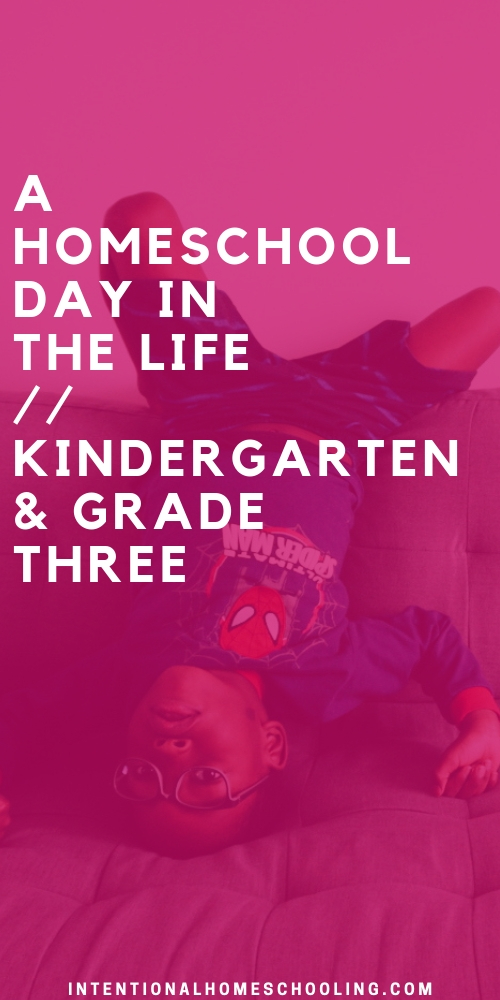 I hope you enjoy this look into our homeschool day!
If you want to instantly get notified when we have new videos up you can subscribe on YouTube: [sm-youtube-subscribe]
RESOURCES USED & MENTIONED
Brain Quest Quiz Cards: Kindergarten
If you would like to see more Day in the Life videos or other homeschool videos, let me know!
SIGN UP FOR MY NEWSLETTER!
Hi Friend, I would love for you to sign up for my seasonal-ish newsletter! I would love to send it monthly but I feel like in this season of my life that will probably not happen but I would like to commit to sending one out at least every three months.
In the newsletter you can expect little (or big!) life updates, what I've been reading in the Bible, and all sorts of resources I've been loving and lessons God has been teaching me.